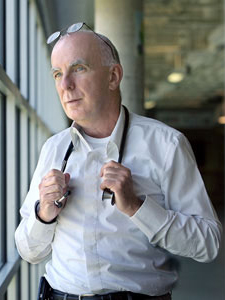 Dr. Kilby has always been a strong advocate for access to healthcare for marginalized populations including the poor, the homeless, injection drug users, and immigrant populations.
He has been on the forefront of HIV/AIDS in Canada for more than 25 years. He has chaired several advisory committees including the Federal Ministry Council on HIV/AIDS, the Ontario Advisory Committee on HIV/AIDS, and the Ottawa Carleton Council on HIV/AIDS.
Dr. Kilby has been involved with CACHA since its creation in 2001. As the president of the board, Dr. Kilby is responsible for ultimate oversight of the board and ensuring CACHA is able to complete its mandate.
Dr. Kilby has been awarded the Nelson Mandela Humanitarian Award and an Ontario Award for Good Citizenship, and has most recently been named a Governor General medal recipient.
Chris completed his undergraduate degree in political science with a concentration in international relations and development. Chris worked in the area of anti-retroviral treatment and research both during his time with pharmaceutical companies and as executive director at the University of Ottawa Health Services. His work in HIV clinical research programs has led him to take part in various international conferences and remain committed to the fight against HIV/AIDS.
Chris joined CACHA in April 2004 and became the head of the Tanzania project committee, and has since led seven missions to the Kilimanjaro region in Tanzania.
Chris currently sits on the board as interim treasurer and is responsible for advising the board on financial matters.
Currently completing his PhD at the University of Ottawa, David holds a master's in public health.
David joined CACHA on his first trip in April 2010 to Uganda.
Later that fall, David return to Africa and lived in Ukerewe, Tanzania for eight months as a CACHA field agent officer through the internship program.
In October 2011, he joined the board and is currently the grants and proposals lead. As the grants and proposals lead, David is responsible for sourcing new grants and submitting proposals.
Country Lead and Board Member
Nini is a retired pediatric nurse by trade and has been in the field for over 30 years.
Prior to working at CHEO, Nini worked in Ghana from 1969 to 1971. As a country lead, Nini is responsible for informing the board of her experiences in Bénin and other partner countries.
Dr. Clow is an emergency room physician with the Ottawa Hospital. Dr. Clow has been leading CACHA's missions to Terrat, Tanzania since 2014. She is also a longtime volunteer with Dreams Take Flight and a game-day physician with the Ottawa Senators.
Alexander "Sandy" Davidson
Sandy Davidson is a retired Department of Justice lawyer, and was main legal adviser to the Canada Revenue Agency's Charities Directorate for 33 years. Sandy has volunteer experience with several charity boards, prison visitation, St. John Ambulance first aid, and 9 short term infrastructure and medical mission trips to Belize, Manila, Kenya, Mexico, Grenada and Nicaragua.
Dr. Rathwell is a family physician in Kemptville, Ontario. He studied medicine and completed his residency training at Queen's University. Along with Family Medicine, he specializes in emergency medicine and is the Chief of Emergency at the Kemptville Hospital.
Jon has an interest in international health, specifically preventative health and health education, and he began his work with CACHA through a medical mission to Tanzania in 2015.
Communications and fund development lead
David Sachs is a writer, communications consultant, and commercial property investor. He has extensive professional experience in communications, as well as volunteer experience in logistics, volunteer management and fundraising in non-profit organizations.
He first volunteered with CACHA in 2007, and is the current communications and fund development lead on the board.